I have been working in analytics for the past 6.5 years in areas not traditionally known for analytics; the opportunity for innovation attracted me to those teams. At the beginning of my career I was on an internal consulting team doing 3-6 month long engagements to determine the people strategy. Then I moved on to the legal advanced analytics and data science team to enhance my technical skills and work on a greater variety of datasets/platforms. More recently I decided to pursue a graduate degree in data science to accelerate and formalize my education. For the past eight months data science has consumed my life--meaning I balance working full time while also taking 2 advanced UC Berkeley courses. When I have spare time, you can find me cooking plant based meals, at the gym, or lost on some mountain.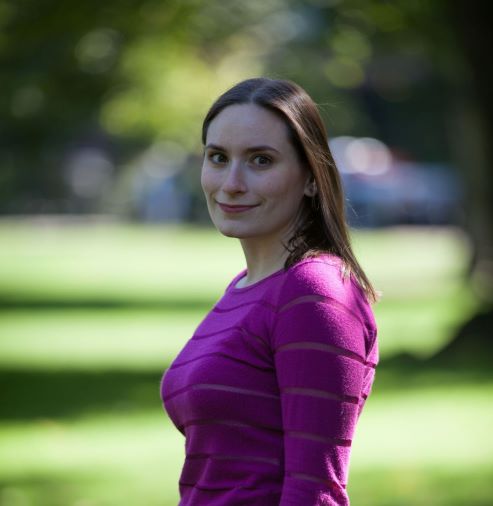 Experience
6+ years transforming data into insights
Liberty Mutual, Boston MA. May 2011-Present
Sr. Analyst ♦ Legal Strategic Services, Advanced Analytics
<![if !supportLists]>♦ <![endif]>Managed mid -sized modeling project to predict litigation emergence. Worked on the proposal to the senior management team, gathered the data, built first pass model, participated in a model peer review, and was responsible for the communication to the senior leadership team throughout the project.
<![if !supportLists]>♦ Developed content and delivered hands on introductory training session to over 100 analysts, data scientists and managers on using Python in the Liberty Mutual environment. Session more than doubled typical training attendance, received positive assessment in follow up survey and resulted in a corporate Bravo award.
<![if !supportLists]>♦ <![endif]>Built explanatory model for the value of legal quality using ordered logistic regression and mining the unstructured data from audit and legal billing notes. Project was lauded by chief legal officer during quarterly town hall meeting and will be part of the foundation for a Smart Referral artificial intelligence tool for selecting outside counsel firms in 2017.
<![if !supportLists]>♦ Started the Liberty Mutual Python User group, currently at 196 members, to facilitate skill growth as well create community support for Python and build the business case for a scaled Python environment in the future. Served as a group moderator answering questions and managing online content.
<![if !supportLists]>♦ <![endif]>As a member of the Predictive Modeling Forum planning committee, managed event timeline deliverables and provided feedback on senior data scientist's presentations about social network analysis and quantile regression.
<![if !supportLists]>♦ Served as the project leader for Public Affairs' analytical projects and interfaced with an outside vendor and the HR systems team. Created budget variance analysis, forecasts and strategic scenarios leveraging Political Action Committee (PAC) contribution data to help reach target growth of 42% in the next calendar year.
<![if !supportLists]>♦ Directed workflow for a team of five regarding Employee Opinion Survey results on Innovation. The team ran two focus groups, partnered with management to identify solutions, and reported findings back to the broader organization.
Business Analyst II ♦ Strategic Workforce Planning (SWP)
<![if !supportLists]>♦ <![endif]>Managed complex analyses resulting in client recommendations for high profile cross business unit projects. Final project included constructing a compelling narrative based on data driven analysis for multiple levels of management on a wide variety of topics: employee movement, attrition, performance results, recruiting, geographic alignment, workforce experience, competitor analysis, labor market assessment, skill analysis, population projections, and employee opinion survey results.*
<![if !supportLists]>♦ <![endif]>Developed project plan and process documentation for a complex project that used ETL (extract, transform & load) software to create a data management system. The project involved connecting to application programming interfaces (API's) with Python and utilized a mix of Spoon transformations and SQL to import the data, create alignment across sources, and scrub the datasets as needed.
<![if !supportLists]>♦ <![endif]>Wrote a Python script that scraped and parsed data from Glassdoor and analyzed resulting unstructured data in R using natural language processing techniques.
<![if !supportLists]>♦ <![endif]>Wrote and utilized a technical interview guide to assess and select additional team hires; guide was used by other departments and recognized with a Bravo award.
<![if !supportLists]>♦ <![endif]>Created interview questions for senior leaders and synthesized results from numerous interviews to generate key themes across the responses and aligned themes to areas of analysis.
<![if !supportLists]>♦ <![endif]>Coordinated and led conversations with internal clients and business partners to gather data and background knowledge that facilitated hypothesis based analysis and ultimately supported the implementation of strategic solutions.
Business Analyst I ♦ Strategic Workforce Planning
<![if !supportLists]>♦ <![endif]>Designed an Excel based tool that accesses company database of external workforce related information and generates a different dashboard depending on users' selections in series of macros. The tool made the team's work more scalable, was more cost effective than any external alternatives, and offered presentation flexibility while controlling the data.
<![if !supportLists]>♦ <![endif]>Merged HR data with business data to develop a headcount model to forecast retirement exposure, identify areas of premium risk and evaluate region alignment.
<![if !supportLists]>♦ <![endif]>Researched software vendors to address the team's need and evaluated products through trials; resulted in the purchase of external data regarding aggregate job board posting information.
Associate Business Analyst ♦ Strategic Workforce Planning
<![if !supportLists]>♦ <![endif]>Created an interactive HR dashboard that allowed users to filter graphs on 22 different metrics in a variety of areas including: talent review, compensation, current position details, time in role, and demographics. The dashboard also featured macros that restored the data to an unfiltered state and altered the data's calculations.
<![if !supportLists]>♦ <![endif]>Created a Microsoft Access Databases to house historical employee information on performance ratings, Variable Incentive Pay (VIP) rates, and awards received. Ran queries and reports on the data.
<![if !supportLists]>♦ <![endif]>Delivered presentations on external demographic data and retirement trends.
<![if !supportLists]>♦ <![endif]>Served as a point of contact for internal client requests and handled follow up questions.
Intern ♦ Strategic Workforce Planning
<![if !supportLists]>♦ <![endif]>Discovered potential pressure points within talent management (with a special focus on retirement, technological changes, and relocation possibilities) by synthesizing information from both internal and external data sources to produce a variety of charts for presentation. Identified trends early allowing Liberty Mutual to plan for the future and reduce the company's risk exposure regarding talent acquisition and retention.
<![if !supportLists]>♦ <![endif]>Identified pertinent information in external sources such as the American Community Survey, the Decennial Survey, the IRS website, and the Bureau of Labor Statistics website. Cataloged and prioritized the relevant sources to facilitate the creation of a comprehensive database.
<![if !supportLists]>♦ <![endif]>Offered daily support to fellow interns and HR professionals in an effort to enhance their Excel skill sets.
PricewaterhouseCoopers, Sydney AU. =
National Strategy and Business Development Intern
<![if !supportLists]>♦ <![endif]>Extracted data from the Human Capital Departure survey and generated an Excel spreadsheet to simplify the analysis of employee responses by automatically calculating KPIs. This report will be used by all Australian offices for the next several years and help to identify areas of employee dissatisfaction.
<![if !supportLists]>♦ <![endif]>Ran ad hoc reports for PwC partners and displayed the information with the most appropriate visual representation.
<![if !supportLists]>♦ <![endif]>Contributed to the analysis of client profitability by putting together a report for each of the twenty operating units. Each report stratified that operating unit's clients based on 2011 profitability criteria.